The Vatican Apostolic Library Meets Irma Boom
November 14, 2022
Reservations are now available for our newest exhibition «Book! Boom! The Vatican Library meets Irma Boom», which will occur in the Exhibition Hall of the Vatican Library from 18 November 2022 until 25 February 2023.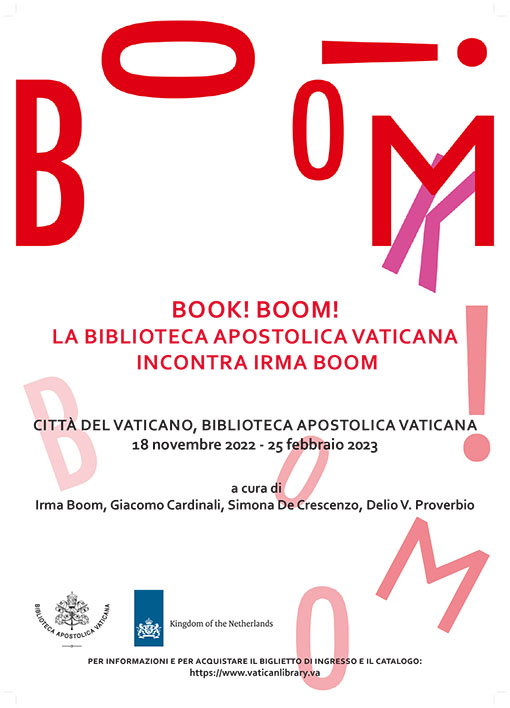 Born from the encounter between the Dutch artist Irma Boom and the Vatican Library, the exhibition - made possible thanks to the support of the Embassy of the Kingdom of the Netherlands to the Holy See - presents in the first section a selection dedicated to the most emblematic achievements of the artist as a bookmaker. To these, the Library responds by setting up a real "Futurist gallery", where, for the first time, posters and some of the most significant books of the most important Italian avant-garde movement of the twentieth century, Futurism, coming from the collection of Don Giuseppe De Luca, are exhibited. Finally, inside the Exhibition Hall, a real dialogue between the artist and the possessed of the Vatican Library takes place: there you can admire, side by side, on one side the books created by the Dutch designer, and by the other, splendid examples of ancient and modern, Greek, Latin and Arabic calligrams, as well as a choice from the production of Bruno Munari, who, starting from the first futurism, has followed a trajectory that comes exactly close to the past and current production of Irma Boom herself.
Purchase the catalog and/or tickets to visit the Exhibition Hall

The catalog of this exhibition is an Artist's book, commissioned by the Vatican Apostolic Library to Irma Boom. The artist conceived and created her artwork exclusively for the Library with a highly innovative design, that subverts usual features of this kind of publications. It is printed on a special paper named after Irma Boom.


Visits are held exclusively in Italian / Le visite si tengono esclusivamente in lingua italiana

In compliance with the provisions in force in the Vatican City State, to complete the procedure for booking and paying for the visit, you will be asked to enter the identity document number of all those intending to visit the exhibition. The same document indicated must be accessed on the day of the visit at the entrance of the Vatican City State at Porta S. Anna.