Information Technology Center (C.E.D.)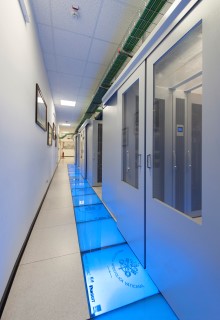 The IT center of the Vatican Library (BAV) is, from 1985, one of the core of the Library. We offer support to the BAV staff and guests and we are responsible of the maintenance of many fundamental services. In the last years the IT, in collaboration with other BAV departments, is bringing on the digitalization of the ancient manuscripts stored in the Library (link), ensuring the preservation and the availability of these fundamental pieces of our history.
DATA STORAGE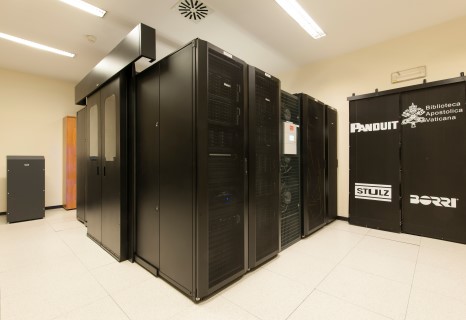 The BAV Data Center storage is distributed among NAS and SAN. SAN (Storage Area Network) are particularly helpful in backup and disaster recovery settings. Within a SAN, data can be transferred from one storage device to another without interacting with a server. This speeds up the backup process and requires less sources in CPU. Also, many SANs utilize Fibre Channel technology or other networking protocols that allow the networks to span longer distances geographically. NAS (Network-attached storage) is a file-level computer data storage server connected to a computer network providing data access to a heterogeneous group of clients. NAS is specialized for serving files either by its hardware, software, or configuration. It is often manufactured as a computer appliance, a purpose-built specialized computer. NAS systems are networked appliances which contain one or more storage drives, often arranged into logical, redundant storage containers or RAID. They typically provide access to files using network file sharing protocols such as NFS, SMB/CIFS, or AFP. As of 2010, NAS devices began gaining popularity as a convenient method of sharing files among multiple computers. Potential benefits of dedicated network-attached storage, compared to general-purpose servers also serving files, include faster data access, easier administration, and simple configuration. Our NAS storage is supplied by EMC2 and consists on a ISILON storage cluster, made of 35 + 5 nodes for a total space of about 5 PB, distributed on two different data centers (Conciliazione and Belvedere). The main use of this storage is the preservation of the digital images. The part of the SAN storage is made instead of 2 EMC VNX servers each one with 30TB of capacity, ruled by a VPLEX that duplicate data transparently. This system is also replicated in two sites.
SERVER INFRASTRUCTURE
The entire storage infrastructure is supervised and managed by a virtualizer that can dynamically modulate the space available to the Data Center, which is called ViPR. The VIPR software is dedicate to manage the virtual center VMWARE with more of 100 VM MACHINE with Unix, GNU/Linux and Microsoft OS. The computational part of that virtual infrastructure is managed by 7 main nodes plus 3 backup nodes. The 7 main nodes have a total cpu power of 212 GhZ and about 1 TB of RAM.
SERVICES
User support and assistance for BAV staff and guests
Mail service and relay host for the mail domain vatlib.it with centrilezed anti-spam and anti-virus filter
Backup server
OPAC server (Manuscripts, Printed books, Archives, Incunabula, Graphic materials and art objects, Coins and medals)
Organization management server, including staff and guests access
Security server including surveillance cameras management, staff, guests and books traceability using RFID tags
DNS server and reverse name
Wireless and LAN connections management
NETWORK
The BAV infrastructure works on a Cisco devices based network. The network counts on a CORE switch, two Metropolitan switches as Distribution and 38 Acces level switches. This topology provide network services to more than 800 between servers, workstations and security devices. The Data Center is the provider for Vatican Library with the VATLIB.IT domain, RIPE organization assigned to us 2 class C network for 512 static IP and also BGP service to the internet WAN. We have three levels of firewall and two lines in FDDI for 1 Gbps link directly to the front end NAMEX forwarding to the Cogent backbone.
CONTACT DETAILS